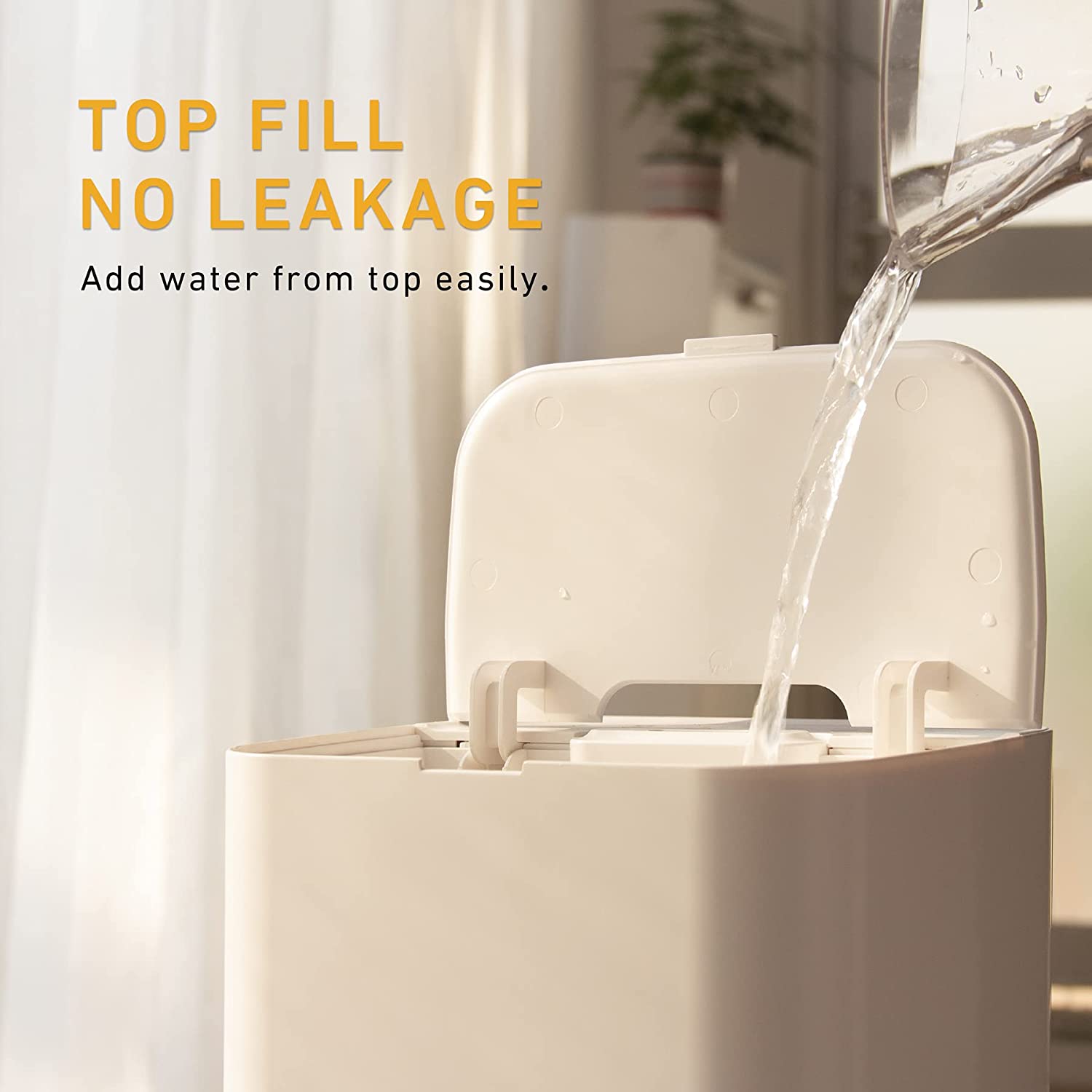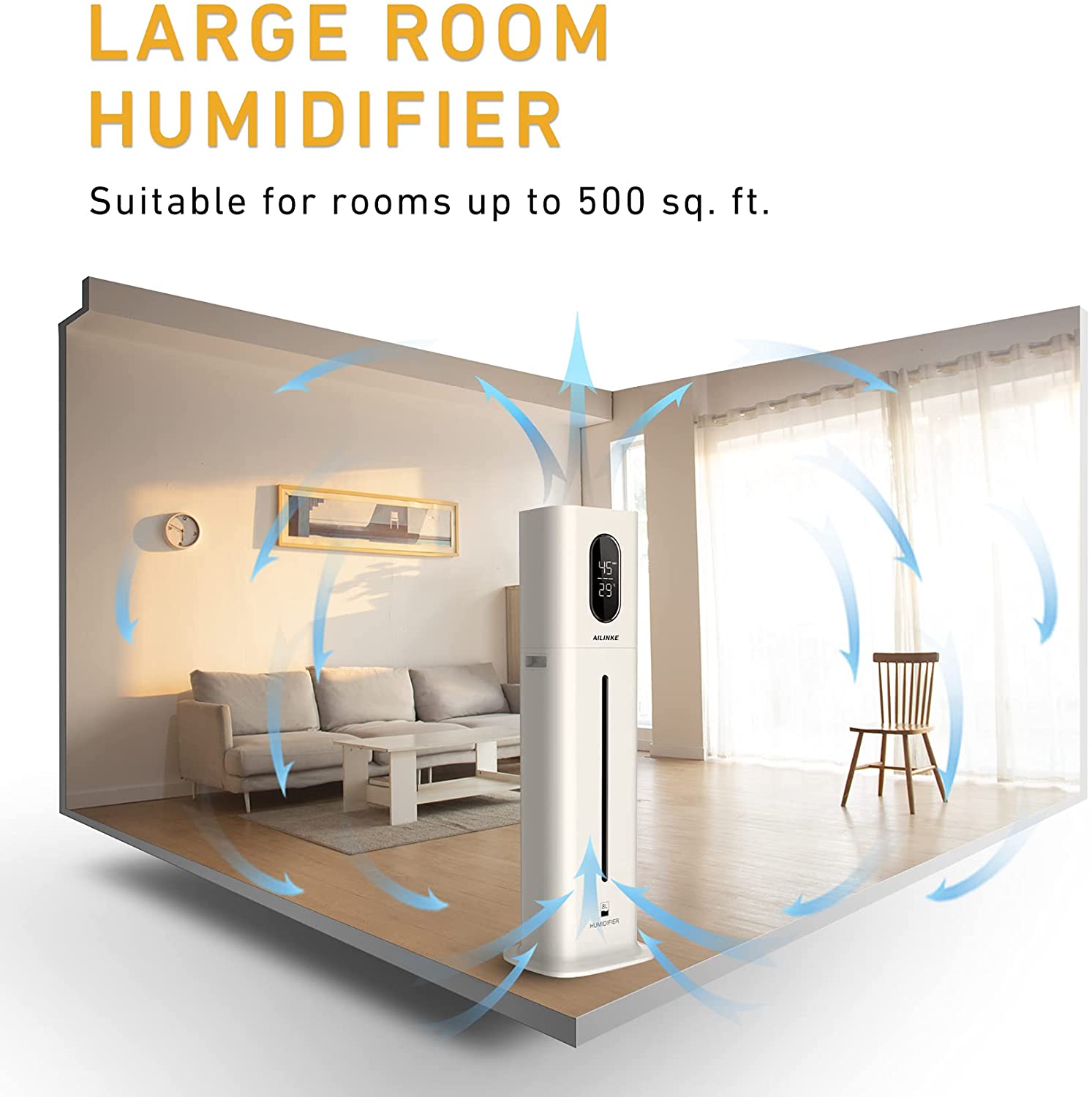 MH-033 8L大容量超音波加湿器
| Information | Amount |
| --- | --- |
| Capacity | 2.1Gal |
| Humidification | 300ml/h |
| Constant moisture time | Up to 36 hours |
| Automatic shut-off | Yes |
Humidifier for large room
2.1-gallon large capacity humidifier, can run for more than 36 hours with once water supply.
It is not only suitable for house, but also for offices, schools, industrial workshops and greenhouses.

Keep Humidity and Live a Healthy Life
Humidifiers maintain the body's preferred humidity to prevent throat discomfort and skin problems caused by dryness and viruses.
Counteract the effects of dry harsh winter air.
Helps return moisture to the air promoting plant growth.
Low humidity causes wood to lose moisture and shrink.
Reduce static electricity
Returning moisture to dry air helps reduce static shocks.
Environmental Protection and Energy Saving
Through ultrasonic vibration, the water can produce tiny mist, which not only has fast humidification speed, but also can save energy.

| —— | Heated | Ultrasonic |
| --- | --- | --- |
| Humidification speed | △ | √ |
| Power consumption | △ | √ |
| Safety | × | √ |
| Silence | △ | √ |
Four advantages of ultrasonic
Speedy
It can be humidified immediately after turning on.
Safety and security
The mist is not hot so it is safe for the small children and pets.
Energy Saving
Low power consumption, so you can use it every day.
Low noise
Without the motor, so the sound is really quite.
General humidifier
Humidify from a low position, moisturizes only a narrow area.
Our humidifier
Humidify from a high position, moisturizes a large area.
Top Fill Tower Humidifier
Pour water from above without carrying the tank!

2.1 Gal large capacity
It operates continuously for 36 hours and can be used with confidence even at bedtime.

Moisturizes every corner of the room
The maximum humidification amount is 300 ml/h, which is not only suitable for house, but also for offices, schools, industrial workshops and greenhouses.

Safe for children with a non-hot mist
Since the water is vaporized by ultrasonic waves, the mist does not get hot, so it is safe for families with small children and pets.

A UV-C Light reduces germs and emits a cleaner mist. And Silver Clean Protection also can prevent mold and mildew growing in the tank.

3-speed Mist Levels
Always gets the exact value of humidity level so that you can set a suitable and comfortable humidity level based on the surrounding environment.

Whisper Quiet Operation
Ultrasonic air diffusion produces less than 36 dB for a quiet humidification that even babies cannot hear, you can comfortable enjoy your leisure time at home.

Waterless Auto Shut-Off
Automatically turn off once the humidifier is out of water, preventing any damage to the machine.

1-12 Hours Timer
Can set the shutdown time from 1 hour to 12 hours, ensure your safety and also save cost when you sleep or go out!

With Essential Oils Tray
For your aromatherapy massage, guitar play, entertain or relaxation, JUST slide the side tray and add tiny drops of essential oils.

Equipped with touch sensor
Equipped with a touch sensor that looks and operates smartly. It can be easily operated with a light touch.

Remote control operation
You can remotely control it while relaxing on the sofa.

Package
1 * MH-033 Ultrasonic Humidifier

1 * User manual

1 * Remote control

1 * Cleaning brush (gift)
Customers also viewed these products